Meet our first Trophy winners
16 June 2023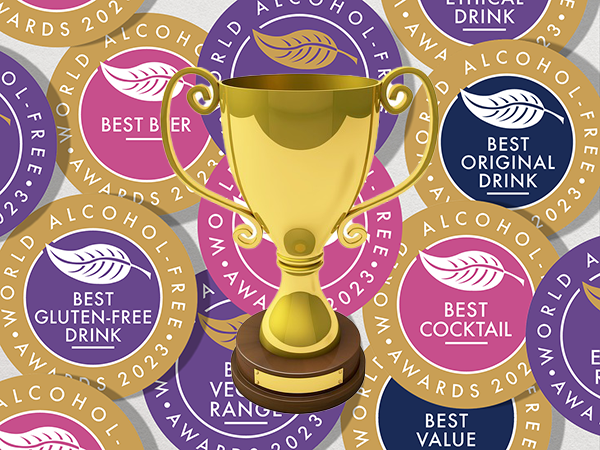 The 2023 World Alcohol-Free Awards reached its dramatic conclusion last night, with the announcement of this year's Trophy winners.
The pinnacle of the 2023 competition, the Trophies were decided at a rigorous taste-off of all the Gold Medal winners by the competition's most experienced judges - including Head of Judging, Chrissie Parkinson.
'For a product to win a WAFA gold medal is already a huge achievement,' said Chrissie. 'But there is one peak that's even higher: a WAFA trophy. With only one trophy awarded in each category, they really do recognise the best of the best.'
Trophy Winners 2023
Spotlight Trophies
Awarded to the best single products that are made according to criteria that are good for the planet and its people
Best Organic Drink - Kombustache Les Fleurs du Mal (France)
Best Vegan Drink - Vinada Crispy Chardonnay (Netherlands)
Best Gluten-Free Drink - Fungtn Shiitake Dark Lager (UK)
Best Ethical Drink - Days 0.0% Pale Ale (UK)
Best Halal Drink - Zero Lush Sparkling Rosé (Canada)
Range Trophies
Awarded to producers with multiple medal-winning drinks with a specific production ethos
Best Organic Range - Sektmanufaktur Strauch - Pur (Germany)
Best Vegan Range - Torres Natureo (Spain)
Best Gluten-Free Range - Three Spirit (UK)
Best Ethical Range - For Bitter For Worse (US)
Best Halal - Jukes Cordialities (UK)
Category Trophies
Awarded to the best drinks in a particular drink style
Best Aperitif - Nonsuch Bittersweet Apple & Cardamom Shrub (UK)
Best Cocktail Ingredient - Lyre's Amaretti (Global)
Best Beer - Brulo 7 Hop 7 Grain DDH IPA (Belgium)
Best Wine - Ara Zero Sauvignon Blanc (New Zealand)
Best Wine Alternative - Proxies Blanc Slate (Canada)
Best Spirit - Myth Drinks Coconut White Cane Spirit (UK)
Best Functional Drink - Sentia (UK)
Best Original Drink - Gimber no 2 Brut (Belgium)
Best Value Drink - Clausthaler Dry Hopped Lager (Germany)
There was a further award, the People's Pick. This was chosen by members of the AF drinking public, who tasted all of the Gold winners blind and voted for their favourites. The winner, picking up its second award of the competition, was Nonsuch Bittersweet Apple & Cardamom Shrub.
'The Trophies mark the end of the judging for 2023,' said WAFA director, Chris Losh. 'Our tasters have had so much fun tasting so many amazing products from all round the world. We'd love to thank everyone who made it possible - our awesome sponsors, our amazing team of judges, and particularly all those producers who backed us in our first year. We can't wait to be back doing it all again in 2024.'
Trophy Pic: Peggy Marco, Pixabay