'People want something unique that will delight them...'
16 November 2022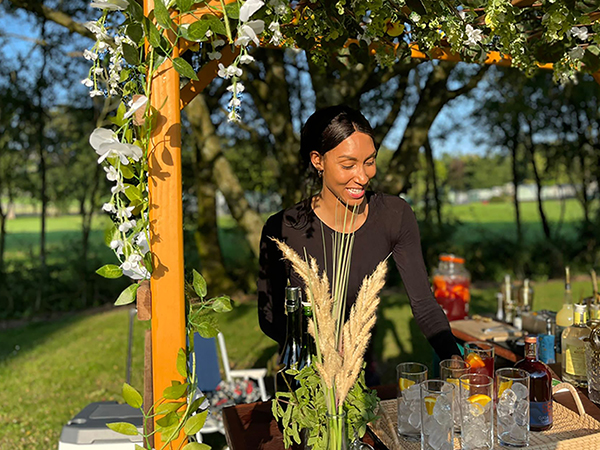 Yasmin Spark's laugh should be available on prescription. A cross between a tinkle and a gurgle, it is joyfully, irresistibly infectious. And over the course of our conversation, I hear it a lot.
But this wasn't always the case. By her own admission, in her 20s, Yasmin was a party girl who 'loved cocktail bars and champagne' but wasn't necessarily happy.
'I would classify myself as an alcoholic,' she says, 'in the sense that I was using alcohol to self-medicate and I didn't have any other coping mechanism. It gets to the point where the drink is more you than you are, and I decided I couldn't go on [with it] any more.'
The turning point, she says, was being diagnosed with a heart condition which doctors said gave her a 50% chance of surviving the year. She sought therapy to, as she ironically puts it, 'deal with my potentially imminent death' which led to her talking about and analysing all areas of her life.
'I had to say goodbye to the alcohol,' she says, 'because it was not helping.'
That was six years ago, and at that time the AF space was very different.
'When I went sober I realised there's nothing that recreates that party vibe on the sober scene. In 2016 there was absolutely nothing.'
Seedlip was a 'lone voice' and she still (cue gurgling laughter) remembers the excitement of being able to get Heineken 0.0% on draught.
Goodbye English, hello events
So much for her journey to sobriety. But how about her move into the events space? It was, she says, inspired by a visit to a hotel spa. A birthday treat, she was astonished to discover, given the environment of wellness and recuperation, that the bar offered no adult non-alcoholic drinks.
Yasmin had had enough. She was, at the time, engaged on a business course to set up an online business to teach English. But she went to her tutors and asked to switch her plan to alcohol-free events because, put simply, she saw a need that just wasn't being catered for.
Currently Yasmin is in transition to doing her pop-ups full time. Her Align company is doing two events a month for clients. They partner with brands, but make the majority of the drinks they serve themselves. As well as her Caribbean heritage, her partner is Japanese/Scottish, so there are some interesting cross-cultural flavour combinations going on.
'I love the fact that for Gen Z drinking culture just isn't a big thing for them,' she says. 'When they come to our events they don't care about the back story. They're like 'I don't care why you're sober, I just want a cool drink - something new, something novel'.'
The long-term plan is to create her own drink, and the customer events that she does are (cue more gales of laughter) proving to be the ultimate in market research. Her most successful drink so far, she says, was Cinnamelon – a cinnamon/water melon combination whose creation, in the absence of a centrifuge, saw her kitchen festooned in alcohol-removing muslin cloths.
'People want something different,' she says. 'Something unique and that will delight them. It's about having new experiences. The beauty of creating a non-alcoholic drink is that it forces you to think outside the box. You have to work out how to entice the whole palate without the factor of the booze.'
In this, she says, alcohol-free cocktail creation is more like food creation than traditional cocktails.
Fully functioning
As for trends within the category, Yasmine believes that functionals have been a big hit with Gen-Z. She uses Trip products, and is about to start experimenting with mushroom functionals with Fungtn.
'That trend has been growing steadily over the last five or six years,' she says. 'Look at Mark Wong [of functional beer Impossibrew]. He's done really well. People are looking for an uplifting effect that helps them socialise, but they do not want the negatives; to lose control and make lapses in judgment. They still want to get up and go to the gym the next day.'
As well as doing more regular events and creating her own drink – possibly using some of the herbs and spices indigenous to her grandparents' home in the Caribbean – Yasmin's ultimate goal is a bricks-and-mortar alcohol-free bar.
'To run the events I'd like to run, to grow some of our ingredients and manufacture the drinks all in one. That's my dream. I'm hoping maybe three years…'
This would, of course, be quite an achievement. But particularly for a black woman – a group that is woefully under-represented in business ownership in general.
'Because it's such a new space, there is actually more freedom to come in,' says Yasmine carefully. 'There aren't so many barriers because everybody's new and getting to know the space.
'That being said, in terms of investment, I think in business 6% of all investment goes to female founders, and 0.1% goes to black founders. So, do I think there's work to be done? Yes I do...'
Either way, however long the business expansion takes, you can guarantee Yasmin will enjoy the positives from the journey.
'Every time someone tries one of our cocktails and says 'that's delicious',' she says wistfully. 'Making people happy. That's the highlight.'