Bringing the Dreams to New Orleans
18 November 2022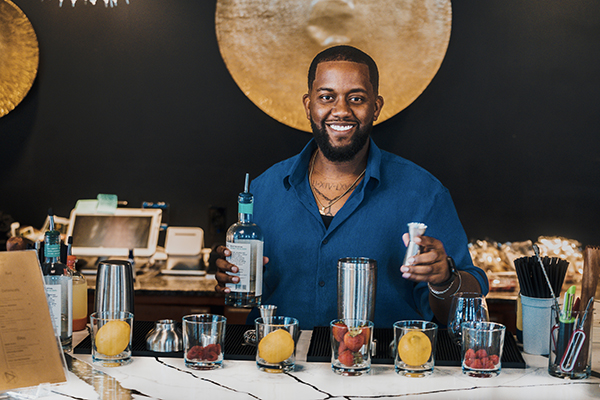 Inspiration can be a hard thing to pin down. But David Wallace, founder of Dream House Lounge in New Orleans, knows exactly where his comes from: his ancestors.
'In my religion we believe that they communicate with us through our dreams,' he says. 'A lot of things I do in my career I have dreams about them first.'
Even so, his ancestors' recommendation this time – to set up an oxygen bar and wellness lounge - was a brave one.
Partly because David had never run a bricks and mortar hospitality venue before and has been on a steep learning curve – 'I'm literally building and flying the plane at the same time.'
But also because, let's face it, a place where people can inhale scented 95% pure oxygen and drink 'conscious cocktails' is radically different. Particularly in a party city like New Orleans.
'It's very difficult to escape alcohol in this city – it is literally everywhere in our face,' says David.
'There's a lot of people who do come here to drink; a lot of people who come to get lost, to lose their minds. Especially during Mardi Gras.'
| | | |
| --- | --- | --- |
| | | |
| The famous 'healthy hookahs' of pure oxygen | A look that's both calming and sumptuous | And the AF bottle shop - try then buy! |
While the Dream House's sheer 'otherness' makes it something of a hand-sell, the fact that it's a long way from the bacchanalian excesses of Bourbon Street is also what makes it so attractive.
'I've been very intentional about creating a space that fosters a sense of peace and a sense of relaxation,' explains David. 'Once people are in the building they're like, 'oh, wow - I didn't know that I needed this opportunity to relax or step away from day to day problems.''
No surprise, perhaps that the bar has attracted a lot of media interest since it opened earlier this year.
Seen it, want it
The Lounge's customers are mostly under the age of 35, and initially attracted to the 'healthy hookahs', videos of which have gone down a storm on TikTok.
But the drinks – and the calm atmosphere - are what keep them hanging out. A $20 package of 20 minutes oxygen therapy, plus a drink is proving particularly popular.
'People are like 'oh my god, I didn't know this was going to taste so good!'' he says. At a party for his latest book launch, guests felt they were getting high on the zero-abv cocktails and sparkling wine he was serving.
'I told them 'you're not drunk – that's just having a good time!'' he says. 'This is a space for wellness, a space for connnections, and a space for collaboration - with alcohol removed!'
RTDs and the home-shaken cocktails are the most popular options, though adaptogenic drinks are also starting to gain ground. David particularly likes the fact that most of the drinks brands he works with are, like him, owned by ordinary people in their 30s and 40s who have decided to use their savings or a chunk of their retirement fund to create something they believe in.
Customers are split broadly into three categories: sober, sober-curious and what David calls sober-conscious.
'That's the category that I fall into, too,' he says. 'I drink maybe three times a month, but only when I'm out, and I'm hyper-aware of my relationship with alcohol. I don't want to have to deal with its affects the next day.'
Initially only open from 4-10pm, the Dream House is now moving onto phase two, and opening earlier, to be a co-working space during the day, and a lounge at night.
There could be further expansion, too. Though David funded this venture himself, he hasn't ruled out outside investment to open venues in other cities across the US.
'I know that we're onto something,' he says.
If so, he's got his ancestors – and his dreams – to thank for the inspiration.
Click here to read about the Virgin Mary bar - bringing mood-enhancing cocktails to Dublin and Abu Dhabi