Judging begins at World Alcohol-Free Awards 2023!
6 March 2023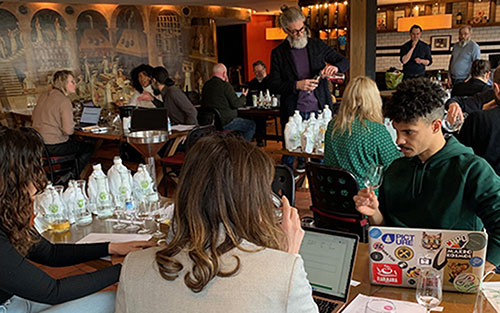 The wait is finally over! The first World Alcohol-Free Awards kicked off in London this morning, with hundreds of alcohol-free products from all over the world being put through their paces.
Top tasters have flown in from the US and Europe to join their counterparts from the UK for two days of judging where they will assess everything from beers, wines and spirits to bitters, RTDs, teas and functionals.
'Since the first moment we told people about the competition, the buy-in from the trade has been incredible,' said Competition Director, Chris Losh. 'Seeing the sheer number and variety of products being lined up and analysed by such amazing tasters really is a dream come true.
'We want to say a huge thank-you to all the producers, importers, retailers and sponsors who have backed the Awards in its first year.'
The World Alcohol-Free Awards accepts entries across the adult drinks' space, provided they are at 0.5% ABV or below, and Head of Judging, Chrissie Parkinson said she has been impressed with the breadth of drinks styles on offer.
'We'd expected big entries from categories like wine and beer,' she said. 'But it's been wonderful to see more esoteric products like bitters, shrubs and mead taking part as well.
'This is an incredibly vibrant part of the drinks world - and we've seen that in the diversity of entries for this year.'
Despite the most comprehensive set of entry categories for any competition, the last month has necessitated a huge amount of cross-checking to ensure that each product is tasted in the right line-up, in the right order and - where appropriate - with the right mixer.
'It's not always easy to categorise drinks in the AF space,' said Chrissie. 'So we've gone through the hundreds of entries with a fine-tooth comb to make sure they are all in exactly the right place and given the maximum chance to shine.'
'With top judges, a highly tailored entry system and bespoke care of every product, if you enter the World Alcohol-Free Awards, you can rest assured that we've done absolutely everything we can to help your drink perform at its best,' added Chris Losh.
Judging is taking place over Monday 6th and Tuesday 7th of March, with the medals released in early April.
Gold Medal winners will be on show at the London Wine Fair in May, with the Trophies unveiled in an online ceremony in June.
'We want the World Alcohol-Free Awards to be the reference point for AF products all over the world,' said Chrissie Parkinson. 'Rewarding excellence and innovation in the AF space, wherever we find it.'