Zero Proof Nation creates world's first alcohol-free map
20 July 2023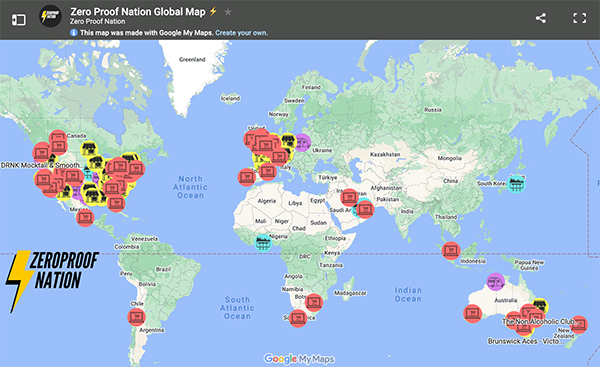 With Covid under control and travel back on the agenda, the world's explorers are stretching their wings once more. And happily, now wherever they go, they'll know just how to access great alc-free drinks.
It's all thanks to Laura Silverman, creator of Zero Proof Nation, world-renowned figurehead for alcohol-free (and WAFA judge!) who has spent three years creating what she believes is the first ever global directory for the world of alcohol-free.
The map is a comprehensive listing of the world's exclusively alcohol-free only establishments, from bars to bottle-shops and from Calgary to Cape Town.
Each entry contains a wealth of information, with websites and social media handles as well as images and written blurbs on each business. It's the kind of information that Laura herself feels has been lacking for a while.
'I've been alcohol-free since 2007,' she says. 'And I knew if I had the want and need of this information, then others would too. I've just found a way of curating all this amazing content already out there in one space.'
Accessible at www.zeroproofnation.com the map is free for all to use, with the only cost the time it takes to subscribe to Zero Proof Nation.
'I believe in democratising access to the map so that anyone with Internet can interact with the tool,' says Laura. Though to get it in front of more people and to truly realise her dream of an alcohol-free travel podcast, YouTube channel, she is seeking financial support from the industry.
'My biggest dream is to see people use the map for travel planning purposes,' says Laura. 'Whether that's for domestic or international travel.'
Used in conjunction with apps like Better Without or BuzzCutt it can also, she points out, be a great way of exploring AF options in your own area.
As well as travel, the map could also be a handy resource for businesses or chambers of commerce that want to work with local AF operators to promote alc-free themed or moderated months.
Currently, there are 250 establishments listed, but Laura expects this to increase rapidly.
'It's hard to say what the number will look like in five or ten years' time,' she concludes . 'But I'd imagine we'll see an exponential increase in both entirely alcohol-free venues and inclusive ones offering beverages in the full, low and no-proof categories.'


To be listed on the map or to enquire about possible financial partnerships, contact Laura via email: laura@zeroproofnation.com