Great festive cocktails from AF bar-guru Derek Brown
19 December 2022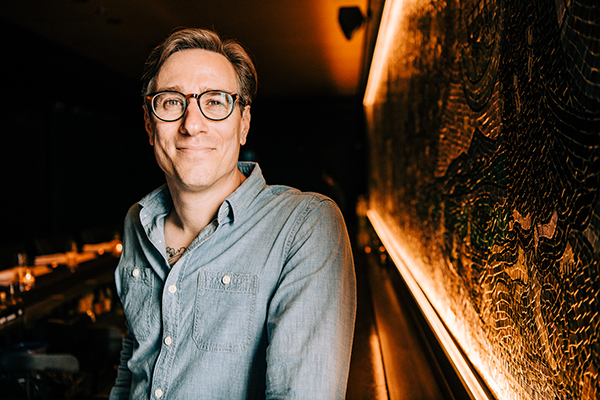 If you want advice on how to make great alcohol-free cocktails, there's no better person to ask than Derek Brown.
A highly experienced and respected bartender, Derek changed his approach to drinking in 2018, when he realised he had a problem with alcohol. He is now the founder of Positive Damage, Inc., a NASM-certified wellness coach, advocate for mindful drinking, expert on no- and low-alcohol cocktails and author of Mindful Mixology: a Comprehensive Guide to No- and Low-Alcohol Cocktails.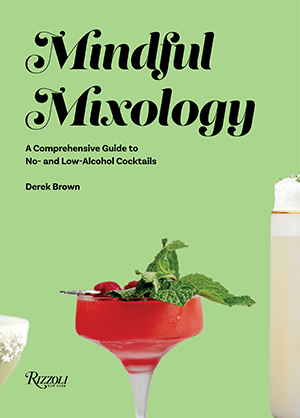 On December 21st, he's running a series of online courses called Holidays Without the Hangover to show you how to make great mixed drinks in the AF space.
But we thought we'd ask him for a few top tips of our own. And he's kindly taken time out from his busy schedule to create three drinks of varying complexity - from Easy to Pro standard to help us all get started on cocktail creation.
So search out your shaker, jigger and hawthorn strainer and get mixing! And don't forget to keep your eyes on Derek's website for more of his masterclasses, too!
Note: In the recipes below, 1oz is about 30ml
Easy
We'll Never Be Royales
Serves 1
This drink is so ridiculously easy to make––and delicious––that there's simply no excuse not to make it. Dump the chilled ingredients together and stir or jiggle. Throw in the lime wheel.

It's very close to a kir - the white wine and blackcurrant liqueur aperitif - so it has an air of elegance, too.
Simple and sophisticated: Serve before dinner parties or at a social event where you don't want to spend all night behind the bar.
4 ounces Leitz Eins Zwei Zero Chardonnay

¼

Sour Cherry Juice Concentrate

Lime Wheel
Combine chilled wine and sour cherry juice concentrate in a wine glass and gently stir.
Intermediate
'Red Wine' Sangaree
Serves 1
This classic drink will probably never get past its association with Sangria when they have actually very little in common. Blame Latin for the root word, which means blood.

Don't add fruit, simply squeeze a little lemon, add simple syrup, ice, and grate nutmeg on top.
You could call this a Red Wine Old Fashioned if people get too confused. The "Red Wine" Sangaree makes an excellent sipper, relaxing after a big holiday meal.
· 3 ounces Thomson & Scott "Noughty" Rouge
· ½ ounce simple syrup (equal parts sugar and water boiled until the granules evaporate)
· 1 dash fresh lemon juice
· Freshly grated nutmeg
Combine wine, simple syrup, and lemon juice in double rocks glass, add ice, and stir.
Top with freshly grated nutmeg.
Pro
Twelfth Night Cider
Serves 25
If you've ever heard the Christmas carol, Here We Go A Wassailing, this is what they meant by Wassail. True story.

Usually made with alcoholic cider, this non-alcoholic version is a more inclusive, equally delicious version that should inspire many more carols to come.
Serve at your holiday or friend gatherings and heat up right before everyone comes over to make sure your house smells joyous and festive.
1 Gallon (4.5 litres) Unfiltered Apple Cider

1 Vanilla Bean Split lengthwise

3 Cinnamon Sticks

6 Whole Cloves

6 inches Fresh Ginger Sliced

2 tsp. Ground Nutmeg

1 Whole Peel of Lemon

4 Baked Honeycrisp Apples*

1.5 Cups Spiritless Kentucky 74 Non-alcoholic Bourbon Alternative (optional)


Tie spices in cheesecloth and add to liquid. Boil ingredients for 15 minutes and strain. Add baked apples to cider. Ladle and serve hot in a mug with a cinnamon stick.

*For the honeycrisp apples: Preheat the oven to 400 degrees F. Add apple cider to the bottom of the baking dish along with 1/2 tsp. salt, 1 tsp. ground cinnamon, and 1/2 cup brown sugar. Cut holes in the apple core and add cinnamon stick.
Bake for 30-45 minutes, depending on apple size, and periodically baste with liquid.
You can catch Derek on Twitter - @positiveDMG - and Instagram - @positivedamageinc, and on www.positivedamageinc.com
Derek's profile pic is by N Karlin; the cocktail photos are from his book Mindful Mixology: A Comprehensive Guide to No- and Low-Alcohol Cocktails. You can buy it here.