Can Wilderton tasting room success be a template for others?
6 September 2023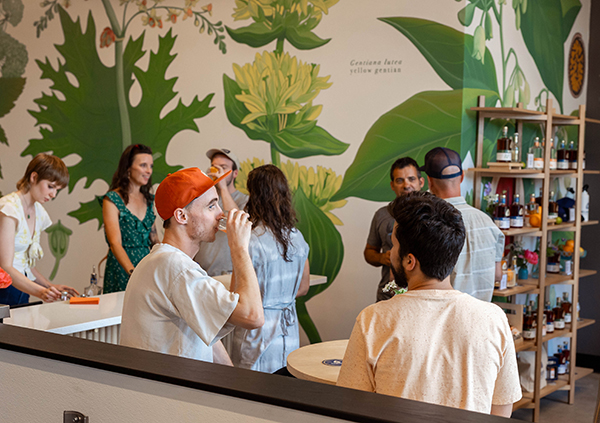 Aside from the obvious issue of ABV, one of the biggest differences between alcoholic and non-alcoholic drinks lies in what is available for potential visitors.
Wineries, breweries and distilleries routinely offer tours, tasting spaces and tutored tastings, to provide visitors with memorable experiences and build brand loyalty.
It's an area where alcohol-free brands – usually started up with smaller budgets, often smaller in scale and inevitably lacking centuries of heritage – have struggled to compete.
But are things starting to change?
Earlier this year AF spirits brand Wilderton opened its tasting room in Oregon, and has been pulling in thousands of visitors ever since.
Craft legitimacy
The brand's co-founder, Brad Whiting, had the idea of a distillery-cum-tasting room in his head from the first moment that he came up with the concept for Wilderton back in 2018. It was something he saw as a way of 'bringing craft legitimacy to the non-alc spirits space'.
'I'd seen in running traditional craft distilleries in the past how important home production spaces were to building community and sharing differentiated product stories,' he says. 'This can and should be even more important in the non-alc realm.'
Giving the public an opportunity to see how and where alcohol-free drinks are made – and be talked through the process by an expert – has two main advantages.
Firstly, it's a great way of generating enthusiasm for the category as a whole.
But appreciating the care and attention that go into making alcohol-free drinks can also help consumers to understand why AF drinks shouldn't automatically be cheaper than their alcoholic counterparts. Three medals in this year's World Alcohol-Free Awards is proof that Wilderton is worth paying for.
Location, location, location
Of course, adding a cellar door to a production facility in the middle of nowhere isn't likely to have much impact. But Wilderton got lucky, finding a facility in the small town of Hood River.
Located on the mighty Columbia River the latter has become a mecca for healthy-living, outdoor sports enthusiasts, so it has a ready supply of interested visitors and a strong tourist season.
| | |
| --- | --- |
| | |
| Brad and Jenny outside the tasting room | A distillery, a shop and a bar in one |
Plus the distillery and tasting room's location - right on the riverfront next to a craft brewery and sports kite manufacturer – could hardly have been better.
'It's in a busy pedestrian area,' says Brad. 'People literally stumble over us. Most folks visiting the tasting room have never heard of non-alc spirits, let alone Wilderton, so it's an amazing way to introduce the brand to new customers.'
As well as happily-surprised newbies, Wilderton's tasting room also attracts non-alc lovers on a pilgrimage. Over the summer the tasting room was pulling in 1000 visitors a month. With tourist traffic likely to tail off in the fall and winter, Brad accepts that those numbers will drop, but the plan is to shift the focus to hospitality and events rather than walk-ins.
Can others follow?
Set up for the distillery-plus-tasting-room was, Brad admits, not cheap. But with the brand growing at 2-300% a year, it seems to be working and could, perhaps, provide inspiration for others in the AF space.
And while vision, careful research and planning are all important, sometimes Brad admits that you can't beat just being in the right place at the right time.
Wilderton's space was originally built for a traditional distillery who simply never took occupancy.
'It sat vacant for several years as I would drive by weekly,' says Brad. 'It seems like it was fate for us to move in here!'
With luck, the AF space will see more tasting rooms like this in the coming years. Then as well as competing with alcoholic drinks on retail shelves and drinks lists round the world, it will be competing for tourist footfall as well.
Click here to see tasting notes and results for the medals from the 2023 World Alcohol-Free Awards, including Wilderton's Gold Medal-winning Earthen.