Axes optional - the UK's biggest AF beer bar
22 December 2022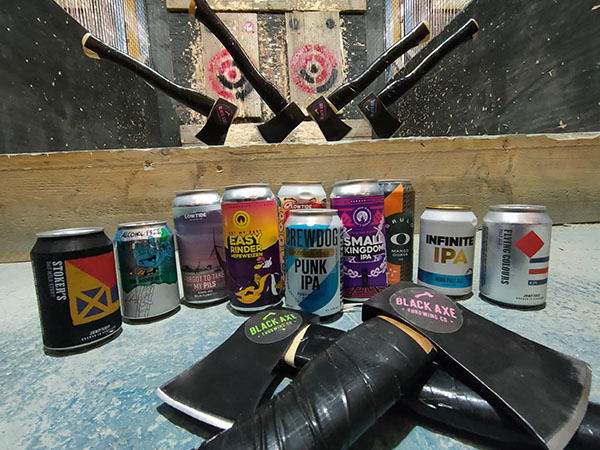 The UK's biggest alcohol-free beer bar is not in a chi-chi five-star hotel, or an achingly hip mindfulness brauerei. It's in a former carpenter's workshop in Edinburgh where people gather to hurl axes at huge wooden targets – probably screaming primally as they do so.
Or, more accurately, it will be as of January.
Black Axe Throwing is kicking off its new beer bar to coincide with Dry January, with a bar that will showcase no less than 50 alcohol-free beers. Somewhat ironically, the venue's owner Gareth Fairlie admits that the whole concept began as something of a raised middle digit to their landlord.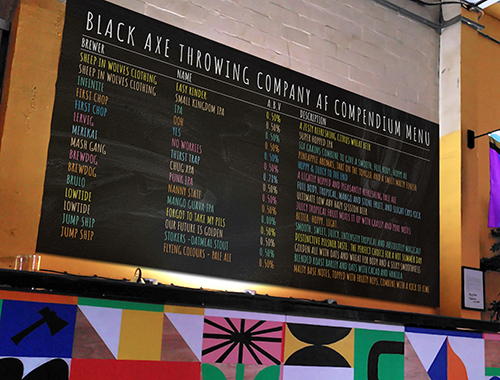 When they first rented the venue and were setting up the axe-throwing, the owner refused to allow a change of use to permit a bar as well.
The team thought 'what's the most punk thing we can do?' and came up with the idea of an alcohol-free bar as a kind of joke.
But the more they thought about it, the more it made sense. After all, it's not permitted to hurl large sharp bits of metal and drink alcohol, but alcohol-free is no problem.
'We're the only company that can say 'have a pint and throw an axe at the same time',' says Gareth. 'It's a really nice position to trade from.'
| | |
| --- | --- |
| | And since they had a massive space, to work with, they decided to go all-in, turn the volume up to 11, and have not just a few beers, but the biggest selection in the UK. |
| | |
As with all start-ups, money was tight, which meant no big cash reserves for buying in stock. So instead, they approached breweries with their idea and asked them to donate their first case for free. This would get the bar up and running and guarantee the brewery a slot on the menu in perpetuity.
The take-up has been amazing. Only one brewery of the dozens they've asked has turned them down, and over 25 have signed up so far. Most are smaller breweries, based in the UK, though the feedback from the EU breweries they've approached has been positive too. Some breweries are putting in one beer, others four.
'We're aiming for a minimum of 50 beers,' says Gareth. 'Scale is important. Without that strapline - of being the biggest non-alc beer bar in the UK - I don't think we'd be so successful in terms of impact.'
There's also, he admits, a nice 'joint venture' feel to it.
'Collectively we're all building something. Everybody has a vested interest in it succeeding.'
Thus far, the majority of the beers are IPAs and craft lagers – safe options. But Black Axe are keen to have as much variety as possible.
'There are breweries out there with incredible portfolios - like Big Drop. Their offering is incredible. Their products are the kind of things that are going to change consumer perceptions,' says Gareth.
'Anything that's done a bit differently – like functionals – we'd like to get in.'
Not least because the alcohol-free hook itself could prove as much of a draw as the venue's core activity itself, so variety will be important.
'This is a gateway to a wider audience who aren't there for axe-throwing,' says Gareth. 'I think we're going to get a lot of no- to low drinkers, sober-curious, especially in January.
'If we get events that are booked with us directly because of the alcohol-free nature of things – I'd love to know where it could go.'